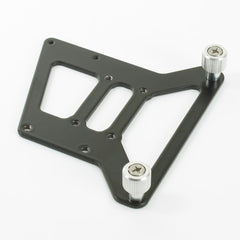 WISP Wireless Side Plate
This wireless side plate allows mounting a wireless drop box beside the battery when used with a compatible back plate or battery plate that includes a side plate mount.
Compatible Back & Battery Plates:
Anton/Bauer: QR DSR, QR SDH, QR HOTSWAP GM, QR HOTSWAP AR, QR EX3, QR-C80P, Universal BP, Varicam BP, JVC-BP or any other Gold Mount with a side plate mount
BEC-700BPU (also known as BEC-700BP)
DM-Accessories WDBP WSBP
Compatible Wireless Drop Boxes:
All wireless receiver boxes sold by Anton/Bauer and The BEC Group.
Compatible Angle Plates:
Angle plates wrap around to stack accessories behind the battery instead of beside it.
ABWMK HD10, ABWMK KIT
Many other products may be compatible, please contact us if you are unsure.