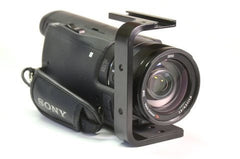 WAMX00 FDR-AX100, HDR-CX900 Wrap Around Mount
This WAMX00 adapter is an accessory mount bracket for most palm camcorders. It offers a long shoe slot and three 1/4"-20 threaded hole mounts, to mount a microphone, light, wireless mic receiver or other accessories on Sony's FDR-AX100, HDR-CX900, HDR-CX90 and many other handheld cameras. This allows the use of a light or other devices with the receiver in Sony's ECM-W1M Bluetooth Wireless Microphone kit, as shown in the second image. The threaded holes on the vertical post can support a BOT-FLAT.
This bracket also works with the Sony XLR-K1M on the AX100 and CX900 cameras.
There are several standard (1/4"-20 thread) tripod mount holes on the bottom of the plate for tripod mounting, and choices of tripod holes for balance adjustment.
This design doesn't restrict available hand grip space or block access to controls on the Sony AX and CX cameras, this may vary on other cameras.
The WAMX00 is made from aluminum and given a durable satin black powder coating.
Many other cameras are compatible. The camera should be 3.6" / 91mm or shorter, and be smaller than 1 5/8" / 41mm from tripod hole center to the rightmost part of the camera where the vertical support is.
Other known compatible camcorders:
Canon FS10, FS100, HF10, HF100, HFS100, Sony HDR-CS430V, HDR-CX590
Blemished coating option offers a lower price for scuffs or spots in the coating. The product is every bit as functional as the full price version and blemishes are minor.