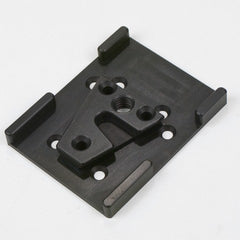 VCT-SP (VCT-WEDGE) Mount for VCT Quick Release Mounts
 Compatible with all DM-Accessories reinforcement plates and shoulder kits. May be compatible with many other cameras, please check the mount pattern listed in the description below.
This is a wedge plate compatible with Sony's VCT-U14 quick release mount, also tested to work with the Panasonic SHAN-TM700 and Canon TA-100 base plate. It works with "Betacam" tripods with the wedge slot, as well as JVC KA551U and the monitor mount wedge on Grass Valley cameras. It also includes a 3/8"-16 inside thread for monopod or other use.
It is machined from aluminum and anodized for high durability and scratch resistance.
This plate is compatible with all DM-Accessories reinforcement plates and shoulder kits. It is also compatible with any device with a 26mm wide x 42mm long four hole rectangular bolt pattern for 4mm or smaller flat head screws, as well as any device with a 23mm wide x 30mm long three hole triangular bolt pattern, using 4mm or smaller flat head screws.
This wedge also fits the Grass Valley monitor mount quick release base meant for monitor mounting.
By default, this wedge plate includes 4 screws, 4mm x 8mm flat head type stainless steels, Philips drive for the four-hole pattern.  Those that need to mount to a 3-hole wedge mount pattern should contact us and request that we send the appropriate screws.
Those wanting a larger plate that engages the entire VCT-U14 plate should consider the longer VCT-LP-RM.
The Sony VCT-U14 base plate is shown for visual reference only.  It is not included and is not available for sale on this site.