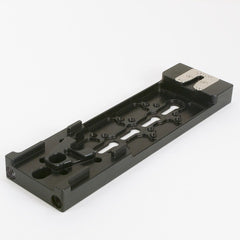 VCT-LP-RM Long Plate Mount for VCT Quick Release Mounts, with optional mounting for rods
Update July 20, 2023: NEWLY Restocked, shipping within 1 business day
The VCT long plates engage the wedge and the tail stud of the VCT-U14 and similar quick release plates. This kit accepts rods with M12 x 1.75mm threaded ends on the front and rear.  Rods are not included and are not available through DM-Accessories.
This is a wedge plate that locks into Sony's VCT-U14 quick release mount, also tested to work with the Panasonic SHAN-TM700.  It is compatible with the Canon TA-100 base plate, but the TA-100 does not offer a tail stud. It works with "Betacam" tripods with the wedge slot and tail stud.
VCT-LP-RM is highly engineered and precisely machined from a single piece of aluminum for high strength and minimum weight, and anodized for high durability and scratch resistance.
This plate is compatible with all DM-Accessories reinforcement plates and shoulder kits. It is also compatible with any device with a 26mm wide x 42mm long four hole rectangular bolt pattern for 4mm or smaller flat head screws.
This wedge plate includes 3 1/4"-20 screws and 4pieces of 4mm x 10mm screws, flat head type stainless steel, Philips drive for the four-hole pattern.
The weight of VCT-LP-RM is 13.1oz / 370 grams.
The rod spacing is 60mm and it will accept rods with a 12mm thread.
Those wanting a smaller wedge plate should consider the VCT-WEDGE.
The Quick Release Base plate and rods are shown for visual reference only.  They are not included and is not available for sale on this site.