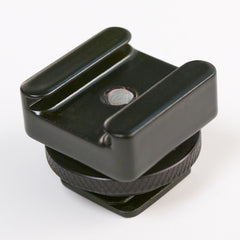 UNI-FLAT - Riser for SLRs and other universal shoe devices
The UNI-FLAT raises the position of a universal cold shoe device for better use on some equipment. In some cases, the locking nut of a microphone will hinder the use of some controls on a camcorder, UNI-FLAT helps overcome this problem. On the JVC Everio camcorders, this adapter is required in order to mount the Rode Videomic, otherwise the zoom control will prevent the mic from mounting. Also, some Panasonic camcorders, such as PV-GS300, need this to retain some controls when used with some mics.
Also, the Rode Stereo Video Mic (SVM) does not fit the Canon 60D, T2i and other Canon SLRs, this adapter allows you to mount the SVM to the Canon SLR without requiring filing the mic shoe base or the camera.
This adapter is only compatible with devices that have a universal shoe mount, and it does not pass along any electrical power or signal such as flash trigger, audio, etc.
This device weighs about 2 ounces / 50 grams and raises the mounted device by over 1/2" / 14mm.
This adapter is also compatible with hot shoes that use the universal mount shoe, such as Sony's IAS (Intelligent Accessory Shoe). IAS should not be confused with Sony's AIS (Active Interface Shoe), which is smaller and completely non-standard. Please check your camcorder or your camcorder's manual to be sure which one it has before purchasing.
This product is sometimes assembled to order, there may be a shipping delay. Please contact us if you have an urgent need for this product.