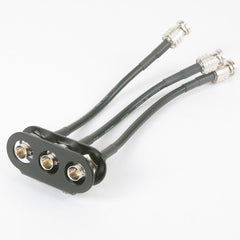 BNC Panel for Shoulder Plate
The BNC panel allows for the repositioning of a camera's BNC jacks (SDI, genlock, etc.) to a more convenient location, and has an added benefit of moving a cable stress point outside the camera, preventing damage to the camera jack in the event of a mishap. These patch cables are assembled by a qualified technician and sweep tested to assure best signal quality. Cable and components are from Canare and Amphenol.
Currently available are two, three and four position plates complete with cables. Mounting screws are provided.

This BNC panel is designed specifically for DM Accessories shoulder plates. Shoulder plates sold 2011 and later already have the needed mount threads. Older shoulder kits can be altered to support these jack panels for the cost of shipping.
Cord length shown is best for EX3 cameras. Panels used for other cameras will be supplied with longer cords. Panels bought on the same order as a shoulder kit or shoulder plate will be installed for the buyer's convenience, unless requested otherwise.