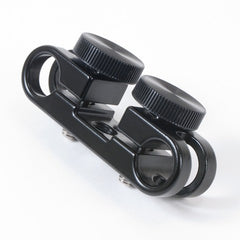 ROD-UNI Universal Rod Mount Bracket
This universal rod mount uses two captive 1/4"-20 screws at a 1.25" spacing. It is compatible with the current DM-Accessories shoulder plate and pivoting back plate.
Compatible with DM-Accessories Pivoting Back Plate, shoulder plates and AF100-PLATE.

The rod mount is made of aluminum and powder coated for durability. The thumb screws are "captive", meaning they won't fall out when this mount is not attached to an accessory, as long as the screw is in the mount.