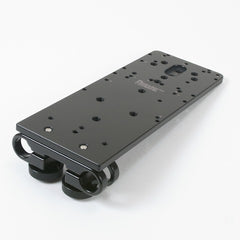 ROD-AP Rod Mount Accessory Plate
ROD-AP is an accessory plate for rod mount systems. This plate is easily installable, adjustable and removable, tighten or loosen with two thumb screws.
This will accept an Anton-Bauer, V-Lock or DM-Accessories 1BPU and 2BPU battery plates. It can also be used to carry other accessories, such as a flash recorder.
The rod mount portion is powder coated, the accessory plate is anodized with commonly used holes clearly identified using laser engraving.