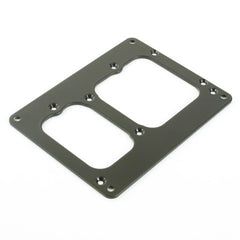 QR-ADAPTER
This adapter plate allows the use of an existing full-size (QR-GOLD) onto a DM-Accessories pivoting plate, or even any mounting surface that can accept a V-Lock or the more standard Gold Mount plate. QR-GOLD is a specific part made by Anton-Bauer that is larger than other Anton/Bauer Gold Mount plates, and has a rectangular hole pattern. If your Gold Mount plate does not have a rectangular hole pattern, you do not need this adapter.
This plate is laser cut from steel and has a durable powder coat. This kit also includes the screws needed to mount a QR-GOLD to a battery plate mounting surface.
This adapter plate is not necessary for any battery plate DM-Accessories sells. If you're not sure you need this, please contact us.