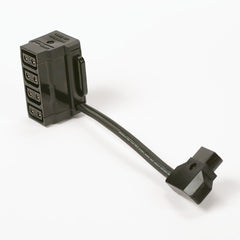 Anton/Bauer PowerTap Multi 4-Jack Splitter
This is Anton/Bauer's Powertap splitter, it allows for powering up to four devices with Powertap connectors from one Powertap jack.  The cord is approximately 10cm (4 inches) in length.  Powertap is also known as D-Tap or P-Tap.
Please note that care should be taken to prevent excessive power draw.  The total current drawn from the battery should not exceed 10 amps, some batteries can only supply 7 amps.  Check the battery label as well as the devices that will be connected to the battery.