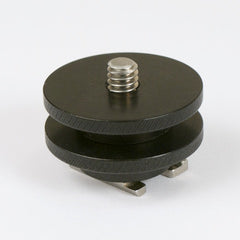 MIS-POST - Threaded Post for Sony cameras with MIS mount
Please verify compatibility with your camera before ordering. A compatibility list is shown below, but it is not complete. Contact us if you have any questions not answered in this description or your manual.
This mini shoe adapter for Sony Multi Interface Shoe, for 2013 and newer camcorder models, and it features all metal construction.
This is an adapter for Sony Camcorders with the Multi Interface Shoe (MIS) to allow it to devices with a 1/4"-20 female thread on the bottom. Some lights, microphones, recorders are like this. This adapter tightens down securely, it will not rattle or fall out. The shoe is made of metal, the knob is anodized aluminum and the base is made from stainless steel.
Please note that this is only a mechanical adapter. MIS-POST will not pass power, audio, flash, or other electrical signals between the camcorder and mounted device.
1/4"-20 Post is Known Compatible Sony models:
FDR-AX100
HDR-TD20V
HDR-CX430V
HDR-CX675
HDR-CX900
HDR-PJ430V
HDR-PJ540
HDR-PJ650
HDR-PJ790
If your camera is not on this list, check the manual or manufacturer's specifications, or email us and we can determine compatibility.
The 3/8"-16 version is compatible with RX10, RX100, (SLR-shaped), and Sony Pro cameras and Alpha cameras with Multi Interface Shoe. It will not work on Sony Handycams.
AIS
Sony's Active Interface Shoe is a different, incompatible mount, please see the page for AIS-POST adapter.