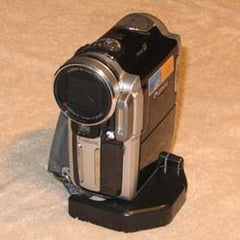 HV10-SHIM - low profile shim for Canon HV10
This tripod adapter for the Canon HV10 is a compact, low profile adapter that allows the user to remove and insert the tape without removing the camcorder.
This adapter supports direct tape removal for tripod heads up to 4" wide, more specifically, 2" from mount screw to rightmost part of tripod head. It is also capable of indirect tape removal for larger tripods that have a quick release mechanism, requiring releasing the quick release before the tape can be ejected.
Those wishing for direct tape removal for tripod heads wider than 4" should look at the PROT-MINI or PROAT-MINI.
This adapter is designed specifically for the HV10 and is probably not compatible with other camcorders.