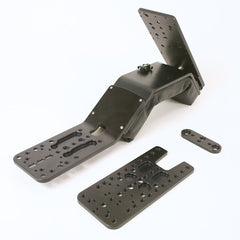 NEX-FS100 Shoulder Kit
This shoulder kit is designed for the Sony NEX-FS100, it includes an adapter plate and a shoulder mount kit.  The pivoting accessory plate option allows mounting wireless boxes, flash recorders, hard drives and several kinds of battery mount plates, including Gold Mount and V-Lock plates.  The pivoting accessory plate folds forward for storage or tripod use, and can fold to the rear so the weight of accessories can counterbalance the weight of the camera.  A pivot clip is included with the pivoting plate to easily latch and release the pivoting plate from the rearward position.  The pivoting accessory plate also includes one cable clip for neatly routing up to two cords.
This kit also works with Sony's NEX-FS700. The PXW-FS7 version is the same kit but with the mount plate modified to take the larger tripod screw the FS7 needs. This plate also includes the larger screw needed. The enlarged hole in the mount plate will be bare aluminum.
The shoulder plate uses leather-wrapped foam for maximum comfort and durability.  Long shoulder plates are recommended for camera operators that are 6ft and taller, or with broad shoulders.  The standard shoulder plate is recommended for most camera operators and camera setups.
This kit allows a lot of adjustability and flexibility, the camera can be mounted center or to either side for comfortable use.  Also, it is compatible with wedge inserts of four common hole patterns, as well as rod mount kits.