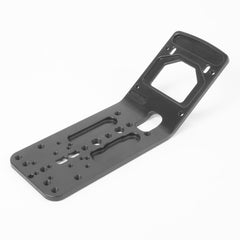 EX3-PLATE Reinforcement Plate for EX3 Cameras
This is a reinforcement plate designed specifically for Sony's PMW-EX3 cameras. It adds significant rigidity to the camera when on a tripod in a way that the EX3's stock tripod thread plate cannot. This product supports the extension feature of the stock shoulder pad.
EX3-PLATE is machined from aluminum, given a machine finish and anodized for scratch resistance and durability.
This plate is compatible with the stock cheek plate and stock shoulder pad, as well as products that use the cheek plate's mounting points, such as Anton Bauer QR-EX3 and BeBob COCO-EX3-V battery mounts.  The EX3-PLATE can also be upgraded to a shoulder mount with the shoulder pad upgrade.
All screws necessary for installation are included. Installation should take about 5 minutes.
If the tripod insert plate is broken, it is best to also replace the broken part with the EX3-TI.
The plate weighs about 8 ounces / 225 grams.
Please see other products compatible with EX cameras by clicking here.

B-stock version has minor cosmetic blemishes but is 100% as functional as the regular version.