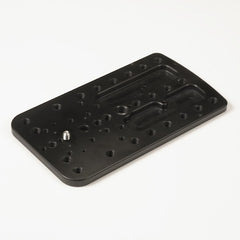 EX1R Reinforcement Plate
Please note:  If you have the EX1 camera, please click this link to go to the EX1-PLATE page. These plates are not interchangeable between the EX1 and EX1R. Please be sure to identify your camera properly before placing your order and select the proper item.
This plate can also be used to mount a PMW-300 to any DM-Accessories shoulder kit.
These are aluminum strengthening plates designed for Sony's EX1R cameras.  Compatible with the DM-Accessories standard shoulder kit, as well as many common wedge plates and rod kits using tripod screws or ENG hole patterns.  They include all the necessary extra hardware and the screwdriver needed for installation.
If the camera's tripod plate or its mounting area has been damaged, it should be repaired before adding a reinforcement plate.