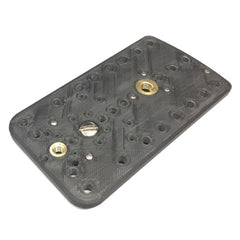 EX1 Reinforcement Plate
Please note:  If you have the EX1R, please click this link to see the EX1R-PLATE. These plates are not interchangeable between the EX1 and EX1R.  Please be sure to identify your camera properly before placing your order and order the correct item for the camera.
The current version is 3D-printed carbon fiber reinforced ABS. This is made to order, please allow a week before shipping. If it is urgent, please message us ASAP to let us know.
Two of the screw holes are two brass melt-in inserts, for one each of the standard 1/4"-20 and 3/8"-16 tripod securing screws. The brass-insert holes are about 3" / 75mm apart. If your device needs a different distance, that can be accommodated, contact us.
All other threaded holes are tapped but not brass-inserted.
These are reinforcement plates designed for Sony's EX1 (non-R) cameras.  It is compatible with the DM-Accessories standard shoulder kit, as well as many common wedge plates and rod kits using tripod screws or ENG hole patterns.  They include all the necessary extra hardware and the screwdriver needed for installation.
If the camera's tripod plate or its mounting area has been damaged, it should be repaired before adding a reinforcement plate.