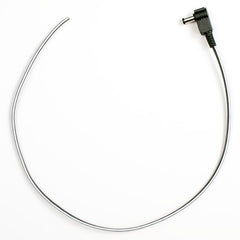 CORD-EX - Power Cord with EX Compatible Right Angle Connector
45cm / 60cm / 90cm (19" / 24" / 36") long cord for Sony EX1, EX1R and EX3 cameras, with a right angle plug, the cord and plug body are flat black with a white stripe indicating the positive wire for the EX cameras.  The cord lengths are nominal, there may be a slight variation between cords.  If used on a battery plate, about 10cm / 3" less cord length will be taken inside the battery plate.  Use a string or sample wire to test your wire routing options before ordering.
The right angle plug will work with a PMW-100 and a PMW-200, but a straight plug is generally more usable. A straight plug is available as a CORD-200 cable.
D-TAP / P-TAP version:  The EX-CORD with a D-TAP / P-TAP plug on one end and an EX DC plug on the other end.
Basic version: The cord, heat shrink tubes and written installation instructions are included.  It is the user's responsibility to properly wire, secure and test the cord before using.  Using a qualified electrical /  electronic technician is recommended.  DM Accessories cannot be held responsible for user miswiring or insecure installation.  Detailed installation instructions are included.
Other cord lengths available on request.