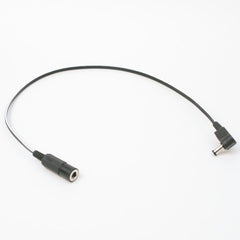 CORD-EX-EXT Extension Cord for EX cameras
This is a DC power extension cord for the Sony PMW-EX1, EX1R and EX3 cameras.  This cord is compatible with any battery or battery mount with an end that connects to the DC jack of these cameras.  This cord is currently available in 18" / 45cm and 36" / 90cm lengths.  
Custom lengths can be made, please email or call us, see "contact us" page, linked at the bottom of this page.