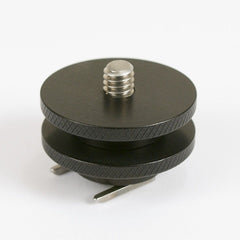 CMS-POST - Canon Mini Accessory Shoe to 1/4"-20 Male Thread
New product, and it features all metal construction.
This adapter converts Canon's proprietary "Mini Advanced Shoe" shoe to a tripod threaded post. The Canon Vixia HF10, HF11, HF100, HF20, HF200, HG10, HG20, HF S10, HF S100, HF M30, HF S20 and HF S200 are known compatible. Other Canon camcorders with the "Mini Advanced Shoe" should be compatible, but have not been tested by DM-Accessories yet. Canon Vixia HV20, HV30 and HV40 do not need this adapter.
This adapter tightens down securely, it will not rattle or fall out.  The knob are anodized aluminum and the base and post is stainless steel.
There is no electrical connection made with this adapter, it is a cold shoe mount only. The base of CMS-POST stays clear of the electrical contacts by a wide margin to protect against accidental contact.