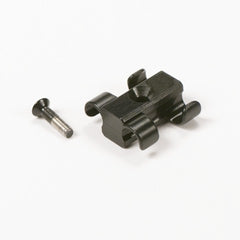 Cable Clip for Shoulder Kits
One cable clip can retain two cords to the top of the shoulder plate of DM-Accessories shoulder kits, as well as on the DM-Accessories Shoulder Kit Handle.
One clip is already included with each DM-Accessories shoulder kit with pivoting plate.  This clip includes a 3mm screw for mounting on DM-Accessories shoulder kits and shoulder kit handle.
Each cord can be approximately 6mm / 1/4" diameter for the standard size, 3mm / 1/8" for the smaller size.  One shoulder plate can hold three cable clips for managing up to six cords.