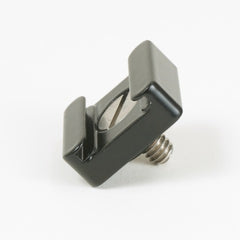 BOT-FLAT Handle or Underside Camera Shoe Mount
This is a shoe mount screws into the tripod mount screw to allow the use of a mic or other shoe-mounted device with any flat surface with a 1/4"-20 threaded hole.  A common use is to add a shoe mount to a camcorder with a threaded hole intended for mounting lights and accessory arms, on cheese plates and most camera cages.  Another use is to make it a camcorder bottom-mounted universal accessory shoe. Most camera cages include several of these holes.
Those desiring a metric thread should email first, such a request can be accommodated with a 6mm or 5mm thread screw.
For small tape-based camcorders, with careful alignment, BOT-FLAT doesn't interfere with bottom-loading tape and door mechanisms on camcorders such as the HDR-HC1 and the Sony TRV series camcorders. This will not allow tape loading on narrow bottom loading camcorders such as HV10 and Optura camcorders.
This adapter is aluminum, powder coated satin black or silver color, depending on color ordered. It includes a dampening washer and stainless steel screws in two lengths. A manual flat head screwdriver is required for installation.
This product works with the handle of the Panasonic HPX170 and HPX500, Grass Valley Viper and any other cameras with a 1/4"-20 light mount shoe (1/4"-20 threaded hole) in the handle.  It is also compatible with DM-Accessories handle for shoulder brace kits.
The first image below shows a BOT-FLAT on a DM-Accessories shoulder kit handle.  The second image below shows BOT-FLAT-SILVER as mounted on the front end of a Sony HC1 camcorder with the HC1-SHIM-MOD.  The silver version is no longer available except by special order.