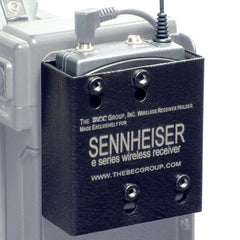 BEC-500 Wireless box for Sennheiser EW 100 and 500
Note: This product was discontinued by the manufacturer. If you're interested in a 3D printed drop box please contact us.

This is a wireless drop box made by BEC for Sennheiser EW 100 and 500 series, and the G2 versions.  The package includes mounting screws and screwdriver.
It directly mounts to the front side of the DM-Accessories Pivoting Back Plate, 1pc. with the standard shoulder mount, 2pcs. with the long shoulder mount.
The wireless receiver and camera are only shown as an example.