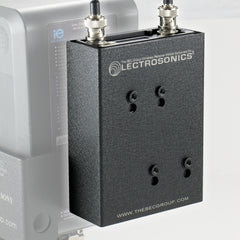 DMA-195 for Lectrosonics 195 and more
DMA-195 is a 3D printed equivalent of the now-discontinued BEC-195. It is made of durable ABS plastic. Photos will be made available shortly. Please allow 1 week lead time.


This wireless drop box is designed specific for Lectrosonics UCR-195, 200, 205, 211 and 411 wireless receivers.  
It attaches to any plate designed to mount a wireless drop box, including DM-Accessories Pivoting Back Plates for shoulder kits.
BEC-195 is made from aluminum and lined with felt for a custom fit.
These wireless receiver boxes can be stacked, one in front of another.
Includes mounting screws and a screwdriver.
1 pc. can be mounted to the front side of the DM-Accessories Pivoting Back Plate, two can be mounted on the side using a WSBP wireless back plate and a WISP wireless side plate.
The wireless receiver and camera are only shown as an example.