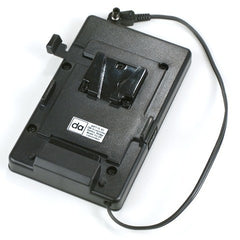 BATT-VL-H V-Lock Battery Mount plate for PMW-100 and PMW-200 Cameras
This V-Lock Mount battery plate mounts standard V-Lock batteries to products with a 44mm x 65mm four hole bolt pattern for DM-Accessories shoulder kits with pivoting back plate, and any other mounting surface intended for V-Lock battery plates, please check the hole pattern. There is one D-Tap socket on the right edge.
The standard cable is about 12" / 30cm long and plugs into the EX1 and EX3, and has a right angle plug for minimum profile on those cameras.
The BATT-VL-H is for the PMW-100 & PMW-200 cameras, and include a straight plug for easier fit for those cameras. PMW-300 should use the BATT-VL-300 battery plate, otherwise the camera may reject the external battery.
These battery plates can be made with custom cord lengths can be made for a small additional cost. Contact us to specify cord length. Please allow a few extra days for custom parts to ship.
This battery plate includes screws for mounting to the DM-Accessories pivoting back plate. Alternative screws can be provided for using this battery mount plate with other projects, please contact us.
For your convenience, if you order this product along with a kit including a pivoting plate, we will pre-install the battery plate to the pivoting plate, unless you request otherwise by email or phone.
For other products for the PMW-100 and PMW-200 series cameras, please click here.