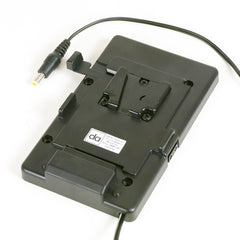 BATT-VL-FS V-Lock Battery Mount plate for Sony FS700 Cameras
The BATT-VL-FS is a V-Lock battery mount for Sony NEX-FS700 cameras and a DM-Accessories FS shoulder kit with a Pivoting Back Plate. There is one D-Tap socket on the right edge. This plate can also mount to any other surface intended to mount V-Lock battery mounts. with a rectangular hole pattern.
The standard cable is about 24" / 60cm long and plugs into the NEX-FS700 DC jack, and has a right angle plug and a built-in power converter. NEX-FS700 requires 7.6V, the camera won't accept power directly from higher voltage batteries without a power converter.
These battery plates can be made with custom cord lengths can be made for a small additional cost. Contact us to specify cord length. Please allow a few extra days for custom parts to ship.
This battery plate includes screws for mounting to the DM-Accessories FS-SHOULDER's pivoting back plate. Alternative screws can be provided for using this battery mount plate with other projects, please contact us.
For your convenience, if you order this product along with a kit including a pivoting plate, we will pre-install the battery plate to the pivoting plate, unless you request otherwise by email or phone.
The photo shows a different cord end. The correct cord will be added when the battery plate is assembled for your order.