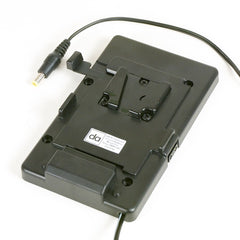 BATT-VL-300 V-Lock Battery Mount plate for PMW-300 Cameras
The BATT-VL-300 is a V-Lock battery mount for Sony PMW-300 cameras and a 300-SHOULDER with a Pivoting Back Plate. There is one D-Tap socket on the right edge. This plate can also mount to any other surface intended to mount V-Lock battery mounts. with a rectangular hole pattern.
The standard cable is about 24" / 60cm long and plugs into the PMW-300 DC jack, and has a straight plug and a built-in DC converter. PMW-300 requires 12V, the camera won't accept power directly from higher voltage batteries without a converter.
BATT-VL-300 is also compatible with PMW-100, PMW-200, PMW-EX1, PMW-EX1R, PMW-EX3, but it is not as efficient as using the ideal plate. Click the camera for the appropriate plate.
These battery plates can be made with custom cord lengths. Contact us to specify cord length.
This battery plate includes screws for mounting to the DM-Accessories 300-SHOULDER's pivoting back plate. Alternative screws can be provided for using this battery mount plate with other projects, please contact us.
For your convenience, if you order this product along with a kit including a pivoting plate, we will pre-install the battery plate to the pivoting plate, unless you request otherwise by email or phone.
These plates are assembled to order, so additional notice is greatly appreciated to meet a delivery deadline.
This plate is also compatible with the Panasonic AG-UX180PJ camera.