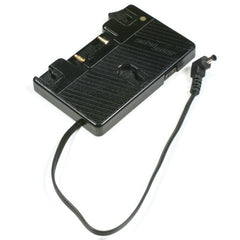 BATT-AB-FS5 Anton Bauer Gold Mount plate for PXW-FS5
This is a genuine Anton-Bauer Gold Mount battery plate with a DM-Accessories customized power cord and custom power converter for the Sony PXW-FS5. The plate accepts the Dionic 90 and other Gold Mount batteries and devices. The power cord is approximately 24" / 60cm long and has a right angle plug. There is one P-Tap socket to power a light, monitor or other device.
These plates can be made with custom cord lengths can be made for no additional cost. Contact us to specify cord length.
This battery plate includes screws for mounting to DM-Accessories shoulder kits.
For your convenience, if you order this product along with a kit including a pivoting plate, your battery plate will be pre-installed onto the pivoting plate, unless you request otherwise by email or phone.
These plates are assembled to order, so additional notice is greatly appreciated to meet a delivery deadline.