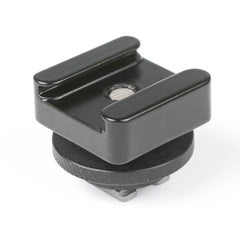 AIS-FLAT v2 - Universal shoe mount for Sony camcorders with AIS mount
If you have a 2013 or newer Sony video camera, please check what shoe mount your camera has. You probably need the MIS-SHOE.
This mini shoe adapter for Sony 2006 to 2012 models, features all metal construction.
This is an adapter for Sony Camcorders with the Active Interface Shoe AIS to allow it to accept generic / standard / cold / universal type shoe accessories, such as standard microphones, shotgun mics, lights and flash. This adapter tightens down securely, it will not rattle or fall out. The shoe is made of metal and powder coated, the knob is anodized aluminum and the base is made from stainless steel.  The black and silver versions are the same except for coating color.
Please note that this is only a mechanical adapter. AIS-FLAT will not pass audio, flash, or other electrical signals between the camcorder and mounted device.
Camera Compatibility
Any camcorder with the "AIS" or Active Interface Shoe socket should be compatible. The manual or product specifications will say what type of accessory shoe it is.
Sony HDR-CX7, HDR-CX580, HDR-CX730, HDR-HC1, HC3, HC5, HC7, HC9, SR1, SR5, SR7, SR10, SR11, SR12, UX1, UX5, UX7, HXRMC50U, HDR-XR520v, HDR-XR550, HDR-SR12, HDR-CX730E, CX740V, CX760, CX760V, PJ710V, PJ720, PJ740V, PJ760, PJ760V are known compatible.
HXR-MC50E/MC50P are also compatible. HXR-MC50U does not need this, it already has a universal shoe at the top of the mic platform.
If your camera model has extra letters on the end of the model number, that is not a problem, the extra letters identify color or region specific models.
The HVR-A1 is compatible but requires that the XLR block be disconnected, which is not recommended.
IAS
Sony's AIS / Active Interface Shoe socket should not be confused with their older IAS – Intelligent Accessory Shoe. The IAS can already accept standard cold shoe devices, but the newer AIS cannot. If the mounting shoe has a cover plate to hide it when not used, then it is probably an AIS shoe. Please check your manual if you are unsure. This AIS-FLAT adapter will mount IAS devices to an AIS camera, but the electrical signals will not be passed between the device and the camera. Someone needing an IAS riser or vertical mount should look at the UNI-FLAT and UNI-CUBE.
Variations
The standard AIS-FLAT adapter ships with a durable satin black powder coating. AIS-FLAT-SILVER is the same as the AIS-FLAT except the shoe mount is powder coated with a glossy silver color to better match camcorders with silver color themes. The first two pictures show AIS-FLAT-SILVER for best picture clarity.
AIS Cover
The pictures show an HDR-HC1 with the AIS cover completely removed. It is not necessary to detach the cover from the camera to use the AIS-FLAT or AIS-CUBE.