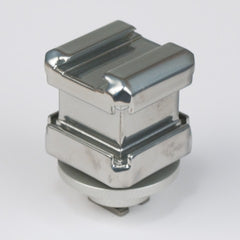 AIS-CUBE v.2 - Multipoint Horizontal & Vertical Universal Shoe Mount
This adapter allows the mounting of universal shoe device on any of five faces, vertically or horizontally. The vertical mounting is handy for devices that have readouts on the face that need to be visible to the operator or crew. The vertical mounts also allow for optimal mounting of devices with antenna whips.
This adapter tightens down securely, it will not rattle or fall out.
Typically, up to three devices can be realistically mounted at the same time on AIS-CUBE, depending on the size and weight of the mounted devices.
This product is compatible with HDR-series HC1, HC3, HC5, HC7, HC9, SR1, SR5, SR7, SR10, SR11, SR12, UX1, UX5, UX7 and HDR-XR520v, XR550, HDR-SR12 as well as any other Sony Camcorders with the Active Interface Shoe. Sony's HVR-A1 is compatible but would require disconnecting the XLR block.
Please note that this is only a mechanical adapter. AIS-CUBE will not pass audio or other electrical signals to the camcorder or mounted device.
The standard AIS-CUBE is shipped powder coated black. The AIS-CUBE-SILVER has a glossy silver colored coating.
IAS
Sony's AIS / Active Interface Shoe socket should not be confused with their older IAS – Intelligent Accessory Shoe. The IAS can already accept standard cold shoe devices, but the newer AIS cannot. If the mounting shoe has a cover plate to hide it when not used, then it is probably an AIS shoe. Please check your manual if you are unsure. This AIS-FLAT adapter will mount IAS devices to an AIS camera, but the electrical signals will not be passed between the device and the camera. Someone needing an IAS riser or vertical mount should look at the and UNI-CUBE.